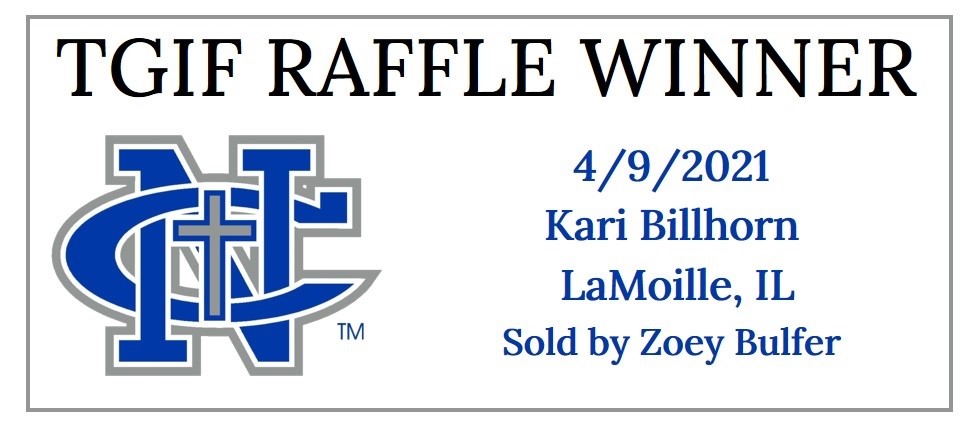 How it Works:
$250 payouts for the 2020-2021 year will begin on September 4, 2020, and will end on August 30th 2021. The prize will increase to $1000 for the Friday before Christmas and the Friday before Easter. 52 overall winners!
Where can you purchase one of these awesome tickets?
You may purchase your ticket today in the front office at Newman Central Catholic High School, or any current Newman Family between May 1st & August 15th
Donation of $20 per chance.
Where does the money go?
A total of $14,500 will be paid out to the winners. The remaining money will go toward supporting Catholic Education at Newman Central Catholic High School.
Why should you purchase a ticket?
1. You are supporting Catholic Education
2. You can win up to $1,000 for only buying in at $20
3. You can claim the $20 as a tax write-off
Congratulations to the TGIF Winners listed below for 2020-2021
09/04/2020 - Sue Lamberson - Verona, WI.
9/11/2020 - Beth Farrell - Wilmington Il.
9/18/2020 - Rosa DeLafuente - Sterling, IL.
9/25/2020 - Ken Schaefer - Rock Falls, IL
10/02/2020 - Paul Krippner - Punta Gorda, FL.
10/09/2020 - Brad Hunsberger - Dixon, IL
10/16/2020 - Matt Klahn - Sterling, IL
10/23/2020 - Emily Witt - Sterling, IL
10/30/2020 - Danielle Reed - Sterling, IL
11/06/2020 - Carla Hill - Dixon, IL
11/13/2020 - Jim Kalina - Sterling, IL
11/20/2020 - Shelly Rae - Oregon, IL
11/27/2020 - Allison Dugger - Rock Falls, IL
12/04/2020 - Joel & Lori Downie - Sterling, IL
12/11/2020 - Penny Roland - Sterling, IL
12/18/2020 - Bob Jarvis - DeKalb, IL
12/25/2020 - Theresa Wolf - Dixon, IL
01/01/2021 - Colleen Bonnell - Rock Falls, IL
01/08/2021 - Mike Britt - Sterling, IL
01/15/2021 - Fr. Keith Romke - Dixon, IL
01/22/2021 - Deidre Mackay - Rock Falls, IL
02/29/2021 - Donna Musser - Oregon, IL
02/05/2021 - Brian Zinnani - St. Louis, MO
02/12/2021 - Cheryl Brady - Dixon, IL
02/19/2021 - Jo Ann Baeza - Rock Falls, IL
02/26/2021 - Nick Jones - Dixon, IL
03/05/2021 - Celeste Widolff - Dixon, IL
03/12/2021 - Baleigh Osborne - Fairfax, VA
03/19/2021 - Kate Kunkel - Princeton, IL
03/26/2021 - Steve Yde - Sterling, IL
04/02/2021 - Barb Rude - Sterling, IL
04/09/2021 - Kari Billhorn - LaMoille, IL