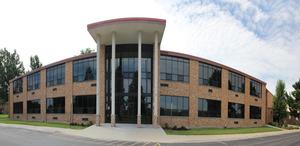 As we walk the Newman Central Catholic High School halls, we see the faces of our students who are positively impacted from your generosity. We see the joy on their faces as they are receiving a Catholic education. We ask for your renewed and special year-end gift. As you know, Community Catholic/Newman Central Catholic High School is a very special place to be. Let us introduce you to some of our students.
We would like to introduce you to Bella. She decided to attend Newman even though she did not have the financial support from her parents. They didn't understand her need and desire for a Catholic education. Last summer she walked into our school and said "What do I need to do to go here?" And from there, we made it happen. Your financial supports helps us help her.
Brandon is the eldest of six children. All the children are enrolled in Catholic education. Brandon's Dad is the only "bread winner" in the family as Brandon's Mom does not work outside of her home. The older siblings detassel corn in the summer to help with paying their own Catholic school tuition. Tuition at Newman for this school year is $4,000. Brandon's family is thankful they receive some tuition assistance for their education as they could not imagine sending their children to a non-Catholic school.
I am sure these students' scenarios sound familiar to you, as an alumnus from Community Catholic/Newman, you and many of your classmates worked your way through your four years of high school. Community Catholic/Newman has paved a path for a brighter, stronger future by building strong academic students, students strong in their faith and Catholic identity which in turn makes them leaders in their communities. But we can only do that through the generosity of people like you, who have been integral to our mission.
Can I count on you to help again? We ask you to please pray for us and give a gift to Newman Central Catholic High School as we make a positive difference in the lives of our Newman students.
Most Sincerely,
Mrs. Kathleen Howard, Principal
Please support our Annual Appeal. Your donation assists Newman in raising funds for the mission of Catholic education including religious curriculum, tuition assitance program, capital improvements, and overall operation of the school.
Matching Funds

Make your gift go even further! Many companies participate in gift matching programs. Some companies will even match gifts made by retirees and spouses of employees. To find out if your company has a matching gift policy, please look for your employer's name below. If your company is eligible, request a matching gift form from your employer, and send it completed and signed with your gift. Newman will do the rest. The impact of your gift may be doubled or possibly tripled!

If you don't see your company on the list, be sure to ask your Human Resources representative or Charitable Giving/Grants Department if this is an option for you.