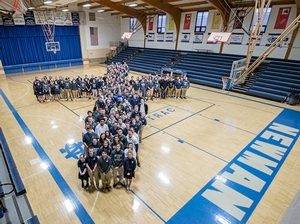 Please support our Annual Appeal. Your donation assists Newman in raising funds for the mission of Catholic education including religious curriculum, tuition assitance program, capital improvements, and overall operation of the school.
Make your gift go even further! Many companies participate in gift matching programs. Some companies will even match gifts made by retirees and spouses of employees. To find out if your company has a matching gift policy, please look for your employer's name below. If your company is eligible, request a matching gift form from your employer, and send it completed and signed with your gift. Newman will do the rest. The impact of your gift may be doubled or possibly tripled!

If you don't see your company on the list, be sure to ask your Human Resources representative or Charitable Giving/Grants Department if this is an option for you.